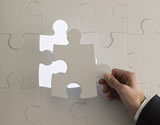 IVP&CE Core Technology Overview
IVP&CE
Intelligent Video Processing and Control Engine (IVP&CE) is the next generation of software framework for the intelligent & proactive video security system market. It covers all aspects of the security and video surveillance under the same umbrella. IVP&CE takes advantage of the latest cutting-edge video pattern recognition and industrial automation technology. It provides unique and seamless security and control software framework to your business.
IVP&CE provides a common framework - with an open API - to let systems integrators to create custom solutions for intelligent & proactive video system.
The combination of multi-tiers, plug & play, object oriented, event based, salability and open architecture, makes the IVP&CE an ideal framework for all Video Surveillance, DVR / NVR, control system, and security applications.
Using IVP&CE core technology, IVISIOTECH has developed a comprehensive range of complete and end-to-end products for small and big facilities such as home, office, airport, building, school, parking lot, and public area.
Some of the IVP&CE framework modules: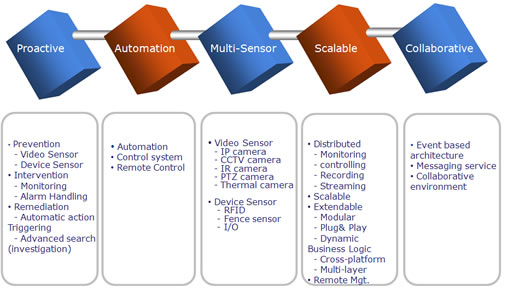 IVP&CE

framework could be used for following type of applications:
Intelligent & Proactive Video Surveillance

Smart Video Analytics

Fallen person detection
Intrusion detection
Abandoned package detection
Stationary object detection
Asset Protection

Proctive Security System

Real-time Video Monitoring
Real-time Device/Sensor Monitoring
Real-time Alarm notification
Real-time Alarm Handling
Automatic action triggering

Advance Search

Alarm / Event / Time / Timeline
Random access to movie based on Alarm/Event
Direct reviewing of the movie through search criteria or timeline

Distributed & High Capacity DVR/ NVR

DVR / NVR

Multi-Servers
Multi-Views
High Recording Capacity
High Compression
Recording mode

Alarm based
Continues
On demand

Optimized Data Transfer between client & server

Streaming Server

Multi-Video Source Streaming for playback record.

Parking Lot Management

License Plate Recognition (LPR)
Real-time parking lot Space Counting