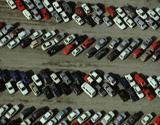 Smart traffic control based on the free and occupied slots.
Provides direction for different type of customers
Handicaps (gives direction to special handicaps slots).
V.I.P (gives direction to reserved slots for V.I.P people).
Owners and employee parking slots.
Save Time and Gas Consumption for drive
Driver will be guided directly to available parking space.
Optimize parking resource for manager.
Real-time detection
Real-time map update
Fully integrated with parking management
Fully integrated with DVR/NVR
Advance search