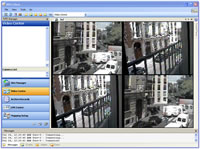 VisioGUARD Advanced
VisioGUARD Advanced is a medium-sized video managemenet software featuring support for up to 64 network (IP) and analog (CCTV) cameras.
It supports many network (IP) cameras from major manufacturers, network (IP) Video servers, as well as any DirectShow and V4L compatible devices
It support plug & play module in order to include video analytics (VisioSHARP) and biometric (VisioFACE) plug-ins.
It uses IVISIOTECH's ISVM technology (Intelligent Scalable Video Multicast) to optimize the network bandwidth allowing to adjust dynamically the video compression rate based on the client video quality requirement. Each client can specify the video quality and compression rate.
It works under both Linux and Window operation system.
Variations
VG-AD-IP-IV-SH
VG-AD-DX-IV-SH