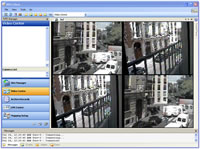 VisioGUARD Enterprise is an enterprise level video managemenet software featuring support for unlimited network (IP) and analog (CCTV) cameras.
It supports many network (IP) cameras from major manufacturers, network (IP) video servers, as well as any DirectShow and V4L compatible devices.
It support plug & play module in order to include video analytics (VisioSHARP), facial biometric (VisioFACE), and license plate recognition (VisioLPR) plug-ins.
It is suitable for large multi-server, installations with many cameras.
It consists of several distributed server which you can be placed where they are needed.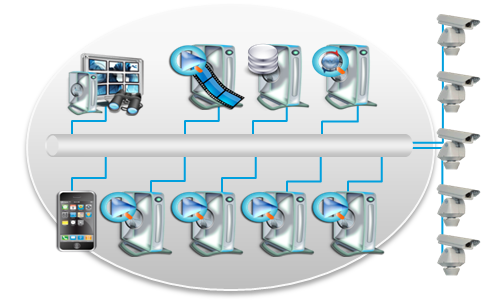 VisioGUARD Enterprise package includes following server:
| | | |
| --- | --- | --- |
| | VisioSERVER | Hybrid, Event-centric Distributed Video Server. Managing analog and network cameras. |
| | VisioRECORDER | Hybrid Distributed Video Recorder (NVR/DVR) Server. |
| | Site Manager | Site & service  Manager Server |
| | VisioDB | Database Server |
| | VisioMANAGER | Central Video Managemenet Client. |
VisioGUARD Enterprise uses IVISIOTECH's ISVM technology (Intelligent Scalable Video Multicast) to optimize the network bandwidth allowing to adjust dynamically the video compression rate based on the client video quality requirement. Each client can specify the video quality and compression rate.
It works under both Linux and Window operation system.